HSBE TOP > News 2013 > Contract with CHODAI CO., LTD. on"Dispatch of a Suspension Bridge Construction Control Chief Engineer for Izmit Bay Crossing Project in Turkey"
Contract with CHODAI CO., LTD. on"Dispatch of a Suspension Bridge Construction Control Chief Engineer for Izmit Bay Crossing Project in Turkey"
July, 2013/HSBE
Honshu-Shikoku Bridge Expressway Company Limited (HSBE) has contracted to dispatch an engineer on a long-span bridge project in Turkey on July 16, 2013.
<Summary>
Contract Name

: Dispatch of a Suspension Bridge Construction Control Chief Engineer for Izmit Bay Crossing Project in Turkey

Company

: Chodai Co., Ltd. (Japan)

Contract Term

: July 24, 2013 to February 2, 2016

Contract Scope

: An engineer from HSBE will provide construction supervision, review of construction planning, progress control and coordination with government or construction contractor for the Izmit Bay Crossing Project.
<Izmit Bay Crossing Project>
Location

: 60km southeast of Istanbul, Turkey

Bridge Type

: suspension bridge with three spans

Bridge Length

: 2,907m

Center Span Length

: 1,550m (the 4th longest span in the world)

Technical Features

: Pylons are made of steel with 252m high.
Girders are a single-box type, made of steel, with six lanes for vehicles.
Dehumidification systems for girders, cables and pylons are installed.
<Story>
A JV consisting of three consultancy firms, Yuksel Proje Uluslararasi A.S in Turkey, Emay International Engineering Consulting & TRD. Co. Ltd. in Turkey and Chodai Co., Ltd. In Japan contracted "Consultancy Services during the Construction Period of Construction of Gebze-Orhangazi-Izmir (Izmit Bay Crossing and Connection Roads included) Motorway with Build-Operate-Transfer" placed an order by the Republic of Turkey, Ministry of Transportation, General Directorate of Highways (KGM). Among the services, Chodai requested HSBE to dispatch of a suspension bridge construction control chief engineer for Izmit Bay Crossing Project, because HSBE has had enough experience and knowledge for the work.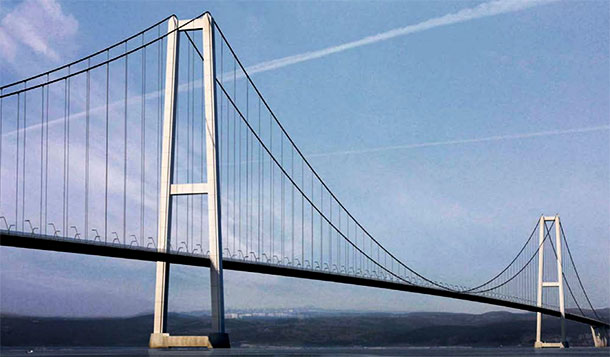 Computer Graphic of Izmit Bay Crossing Project
(Courtesy of IHI Infrastructure Systems Co., Ltd.)


Side View of Izmit Bay Crossing Project (Courtesy of IHI Infrastructure Systems Co., Ltd.)