We are verifying the performance of cable vibration control measures via on-site observation.
Cable vibration
Tatara Bridge (center span of 890 meters) was completed in 1999 as the largest cable-stayed bridge in the world. The cables of Tatara Bridge have a remarkably low frequency due to their extreme length, and one concern was that "rain vibrations" would occur when there is wind and rain. Rain vibrations are a kind of cable vibration that occurs when the formation of rivulets of water on the round cables due to rainfall make cable shape aerodynamically unstable.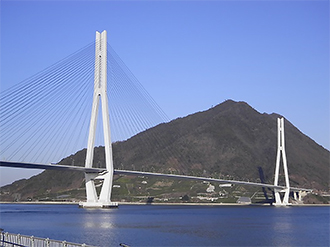 Tatara Bridge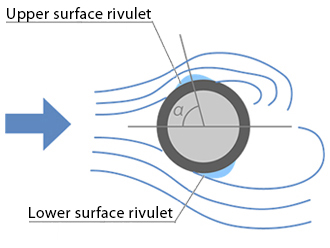 Rain vibration
To mitigate this vibration aerodynamically, we developed an indented cable and employed this cable in the Tatara Bridge. For the development of this indented cable, we confirmed vibration control performance by wind tunnel test. However, there are many unknown factors in the phenomenon and all the possible conditions were not verified in the wind tunnel test, we are investigating vibration control performance of the indented cable through observation of cable vibrations on the actual bridge.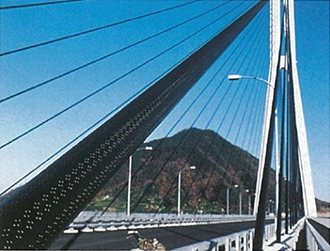 indented cable