We are conducting a study on improving the efficiency of inspection and diagnosis using new technology.
Study of inspection and diagnosis methods using near infrared
Because the Honshu-Shikoku Bridges are steel structures constructed above the sea, they apply the high durablity coating system. As shown below, the high durablity coating system is composed of several layers: inorganic zinc-rich paint, epoxy resin, and fluoropolymer paint. For the Honshu-Shikoku Bridges, because repainting of the inorganic zinc-rich paint on the surface of the steel material is extremely difficult, the fundamental principle of maintenance management is preventive maintenance by completing repainting before the under layer becomes worn, so we conduct periodic repaintings. For that reason, detection of wear of the top layer and exposure of the intermediate layer is very important, but the rate of wear and tear on the top layer varies greatly based on the conditions of the natural environment such as whether it is exposed to sunlight, wind strength, and so on; also, due to the similarity in paint color of the top layer and intermediate layer, judging whether the intermediate layer is exposed by visual inspection is difficult. Therefore, we are currently conducting a study to find whether or not wear and tear of the top layer and exposure of the intermediate layer can be detected efficiently.

Illustration diagram of the high durablity coating system
In a joint research with Kobe University, we are currently focusing on the difference in spectral characteristics in the near-infrared area between the top layer and intermediate layer, we are conducting indoors testing using a test specimen and an investigation of deterioration of the coating paint on an actual bridge using infrared camera. Looking forward, we will continue to investigate efficient detection and evaluation methods of top layer wear and tear and intermediate layer exposure using infrared camera.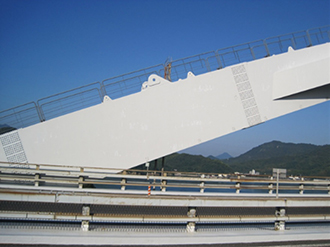 Visible image of actual bridge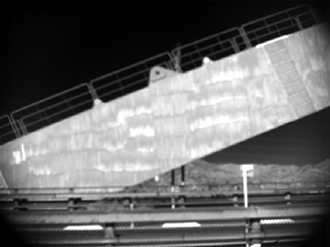 Near-infrared image