We are developing a method of detecting orthotropic steel deck fatigue cracks remotely without removing the coating paint.
Investigation method for orthotropic steel deck fatigue cracks
Compared to concrete decks, orthotropic steel decks can be erected with lighter volume and less time, and another characteristic is the high amount of flexibility they afford in the design process. Therefore, this is a deck style used in many places such as urban expressways where there are many constraints to the erection process or in long-span bridges such as the Akashi-Kaikyo Bridge.
In recent years, numerous fatigue crack of various types have been found, mainly in heavy-traffic routes, and we have also confirmed the existence of the same kinds of cracks in the orthotropic steel decks of the Honshu-Shikoku Bridge Expressway. In order to detect these cracks, previously, we have detected the occurrence of rust fluid via visual inspections and have detected cracks via flaw detection through non-destruct tests, but in most cases scaffolding was needed in order to conduct inspections from close-up, and we wished to develop a technology to conduct remote non-destruct tests.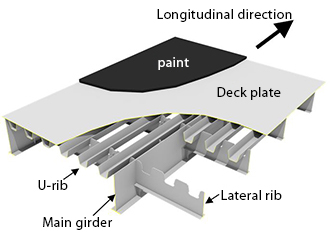 Orthotropic steel deck
In HSBE, through joint research with Kobe University, we developed a technology that detects bead-penetrating cracks through a method that uses infrared thermography. The principle is as shown in the diagram; cracks can be detected remotely without removing the coating paint, and moreover, it is also possible to detect cracks that do not have any tearing of paint, making it an inspection method with both high accuracy and high efficiency. Also, we have acquired a patent for the inspection method and judgment algorithm for crack detection.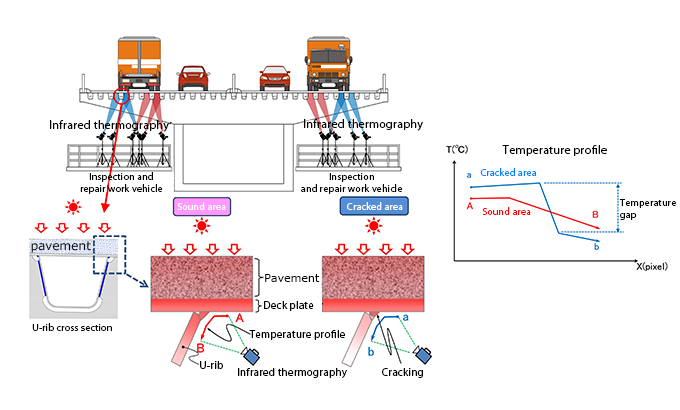 Temperature gap method principle
For the vast amount of orthotropic steel decks, we began fatigue inspections in 2015 with a method using infrared thermography, assigning an order of priority based on traffic volume , details of structure and so on. In addition, we developed a crack detection system based on devices able to take infrared photography and an automatic crack detection algorithm and introduced fatigue inspections starting in 2016. Furthermore, we are working on these developments with Kobe University, which is participating in joint research, and the Honshu-Shikoku Bridge Expressway Company Group joined together as one.
Crack detection device

Infrared (temperature) image for detected abnormal temperature area

crack conditions in abnormal temperature area