We are studying improvement of coating of mass concrete against chloride attack.
Coating of mass concrete
Since the substructures of the long-span bridges of the Honshu-Shikoku Bridge Expressway are in a marine environment where chloride induced deterioration (phenomenon in which chloride ions inside of concrete induce corrosion of steel) occurs due to exposure to salt particles from sea spray, countermeasures are required. Also, in large-scale mass concrete structures such as suspension bridge anchorages, it is impossible to avoid the development of cracks due to shrinkage at the time of construction, and it is possible for these cracks to be intrusion routes for deterioration factors such as salt.
To prolong the lifespan of the mass concrete structures of long-span bridges under these environment, it is important to reduce the penetration of deterioration factors. Therefore, coatings are applied on many of the substructures. Honshu-Shikoku Bridge Expressway has established "Guidelines for Coating of Mass Concrete Structure of Long-Span Bridge" (hereinafter "Guidelines") and coatings are applied in accordance with it. We are also carrying out research and development for further upgrading.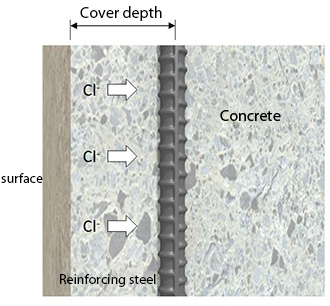 Mechanism of chloride induced deterioration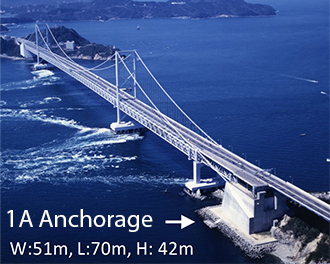 Ohnaruto Bridge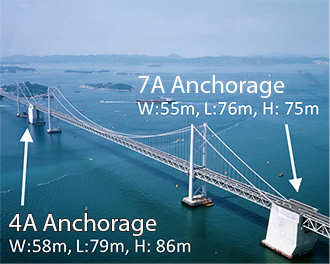 Minami Bisan-Seto Bridge
Improvement of quality standard
In mass concrete structures, variation of crack width due to temperature variation is very large, so the Guidelines require an extremely high stretch performance (2mm in zero-span test). For the sake of refining this required performance, we measured variation of crack width on actual structures. Also, the width of cracks is at its largest during cold temperatures due to the shrinkage of the concrete, so we are carrying out stretch performance test in low temperatures.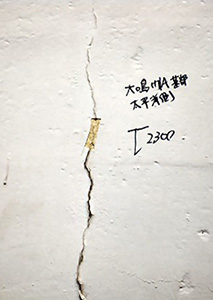 Measured crack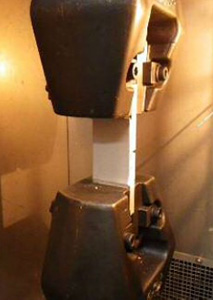 Stretch performance test
Study for maintenance method
Among the coating of mass concrete structures of the long-span bridges of the Honshu-Shikoku Bridge Expressway, there are already many places where several decades have passed since their application. Therefore, a method for repairing the deteriorated coating has become an issue that needs to be addressed. Therefore, we are conducting investigations to establish an appropriate repair method through on-site test application and so on.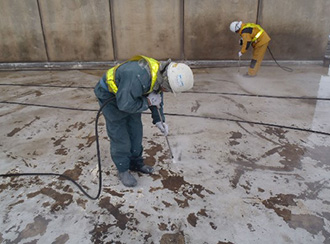 Deteriorated coating paint removal in the test application