Painting technology of HSBE
There are many long-span bridges on the strait in HSBE and the area to be repainted is approximately 4 million m2. The repainting cost accounts for a large portion of the maintenance cost for long-span bridges.
The paint on steel members of long-span bridges is exposed to a severe corrosive environment, and the conditions for repainting are much more challenging. Therefore, highly durable paint is applied capable of reducing the number of repainting in the future. As the paint specifications for outer surface are as follows, heavy duty coating system is applied. For the base layer, an inorganic zinc rich paint is applied that has a strong corrosion protection performance due to sacrificial anode action of zinc. Then, an epoxy resin paint with superior waterproof property is applied as the under layer to protect the inorganic zinc rich paint. The intermediate layer is an epoxy resin paint. As the top layer, polyurethane resin paint and fluoropolymer paint with high durability. HSBE were the first in japan to have applied the system entirely. When it comes to repainting, carrying out the blasting process and controlling humidity during repainting of the inorganic zinc paint are difficult, and the process is extremely expensive, so we carry out preventative maintenance using a plan that makes every effort to avoid this by repainting the top and intermediate layer so as not to exposure the under layer that protects the inorganic zinc rich paint. Therefore, through periodic inspections until repainting is started, we work on early detection of local paint deformation such as rust in bolt areas, corrosion in the form of pitting, and so on, and perform repairs whenever necessary.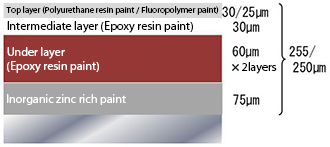 Paint specification for outer surface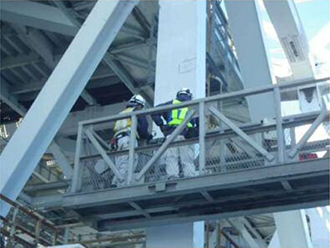 Inspection (Approach by maintenance vehicle for outside girder)