Awaji SA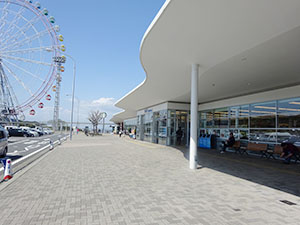 (Awaji SA southbound road)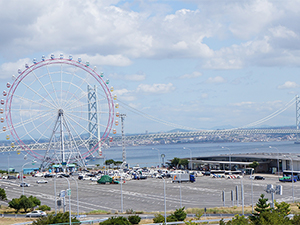 (View from Awaji SA)
The Awaji Service Area is located on Awaji Island, right at the south end of Akashi-Kaikyo Bridge. The Service Area is a gateway to Shikoku from Honshu, the largest main island in Japan, through Kobe-Awaji-Naruto Expressway. At the Service Area, you can make a U-turn from even both directions, and also you can get off the expressway to national highways.
The Awaji Service Area is called "Hill with a view of the Bridge", because you can see and enjoy the magnificent wide view of Akashi-Kaikyo Bridge very closely. The Service Area, therefore, makes you very relaxed and comfort by supplying rest space.
There are restaurants, food court, stands, information desk of highway, observatory terrace, etc. in the Service Area. You can, therefore, relax very much.
In the up side of the Awaji Service Area, there is a direct sales store of fresh vegetables provided from Awaji Island, with lower prices.
There is a big Ferris wheel in the down side of the Service Area. You can enjoy an aerial view from the Ferris wheel. The following show the introduction of the facility.
【Other Service Area, Parking Area】
"Ferris wheel" in the down side of Awaji Service Area
Please click here; you can enjoy an aerial view for 12 minutes!
Air conditioner and heater are installed; the cabin therefore is very comfortable any time.
The highest point is 65m, that is, 135m above the sea level. You can see over Akashi-Kaikyo Bridge and Kobe Airport.
The cabin accommodates 6 persons with ease.
【General Information】
・Business time: 9:00 to 21:00
| | | |
| --- | --- | --- |
| ※ | | You should buy the ticket up to 20:30. |
| ※ | | The Ferris wheel may be closed due to the conditions such as season, date, weather, and so on, without any notice. |
・Admission Fee
Ticket Type
Fee per person
Remarks
General
600 JPY
For a group
(20 or more)
480 JPY
For a student group
(20 or more)
360 JPY
Please show a certification for school event while buying tickets.
For the disabled
(with one accompany)
300 JPY
Please show a certification for the disabled while buying the ticket.
| Ticket Type | Fee | Remarks |
| --- | --- | --- |
| For a group of five | 2,500 JPY | Five persons should get into the same cabin. |
| For a group of six | 3,000 JPY | Six persons should get into the same cabin. |
| | | |
| --- | --- | --- |
| ※ | | You CAN freely go and come between the up side and the down side of the Awaji Service Area by car. |
| ※ | | You can NOT go entering the highway oasis and the Awaji Service Area from Awaji IC directly. |