EV Rapid Charging Station
EV Rapid Charging Station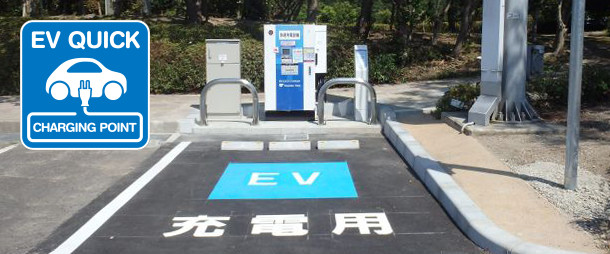 Set-Up Location
* The Awaji Highway Oasis can be accessed from the Awaji Service Area by either the northbound or southbound routes, without having to exit the expressway.
Please note that when coming from ordinary roads to the Awaji Interchange, it is not possible to reach the Awaji Highway Oasis.

for the locations of NEXCO-West Nippon expressway set-up locations around the Honshi Bridge Expressway area.Click here
Service Content (Operational Hours and Method, etc.)
This service is maintained and operated by the Japan Charge Network.
The content of the charging service provided by the Japan Charge Network is as follows.
Operational Hours

24 hours (no holidays)

*There may be short periods of suspended operation in order to perform charging device maintenance.
Please refer to「 "Charging Spot Suspension Info" 」when using.

How to Use

Can be used by those who have the exclusive "Charging Card" prepared by the automobile maker, NCS*1, and JTB, and by those who have a credit card*2 and through obtaining the charging password issued by the Japan Charge Network. (The charging password can be obtained upon registering a credit card.)
For more details, please first confirm the usage guide posted directly on the charging device, then contact the following help desk.

About the Charging Card and Charging Fees

For those with the Charging Card

Please contact the company that issued the charging card.

Credit Card Customers*2

(Usage possible by acquisition of charging password)

Japan Charge Network Customer Help Desk
0570-200-588 (Automated Voice Guidance)
24 hours (no holidays)
(250 yen (tax excl.) for the first 5 minutes, 50 yen (tax excl.) for each additional minute. Maximum charging time of 30 minutes per 1 charge.)

Issuing/Verifying Passwords/How to Operate
Regarding Trouble with the Charging Device

Japan Charge Network Customer Help Desk
0570-200-588 (Automated Voice Guidance)
24 hours (no holidays)
*1: Nippon Charge Service LLC (NCS) is a company established through a joint investment with 4 domestic automobile makers, the Development Bank of Japan, and 2 electric power companies to build and promote a charging infrastructure network.
*2: VISA, MasterCard, JCB, Diners, American Express are accepted.
To those who use a pacemaker or an ICD (Implantable Cardioverter Defibrillator)
Please do not approach the rapid charging device.
If necessary, please ask someone to assist in operating the device.
Electromagnetic waves emitted from this product during charging may temporarily affect the pacemaker and ICD.
A Request to Our Customers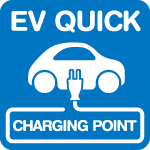 Parking spaces with this mark are exclusive spaces for electric car rapid charging.
Please do not park in these spaces if you are not using the rapid charging equipment.
*Once you have finished charging, please move your vehicle to another space in a prompt manner so that other customers may utilize the rapid charging device.